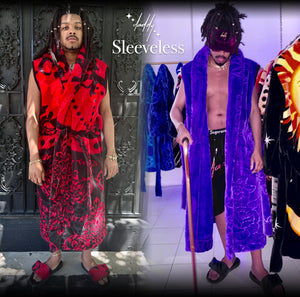 This is a made to order option of having us create you a Daddy Robe without sleeves. While this is an early concept, it is something that you have been asking for since the change of the season. Here is your opportunity to invest in eternal comfort sleevelessly.
Pick an episode from the drop down box and your piece will be handmade by us and mailed to you priority mail. Wait time is currently 7 days.
An investment towards eternal comfort. A handcrafted marriage of warmth and luxury. This sleeveless Daddy Robe will keep you warm and cool simultaneously. Designed and hand cut in Beverly Hills. Built for daily wear. 
 Backed by our standard 3 year DaddyCare warranty.
Sizing: Oversized for comfort. Our Original Large Daddy Robe size will comfortably fit individuals between 5'5 and 6'6. For shorter people or people weighing under 140 lbs the smaller S-M size offering will fit nicely.
Material: Hand-Cut Cruelty-Free Synthetic Mink (100% Polyester)